Bring ye all the tithes into the storehouse, that there may be meat in mine house, and prove me now herewith, saith the Lord of hosts, if I will not open you the windows of heaven, and pour you out a blessing, that there shall not be room enough to receive it.
Txt the dollar amount to (423) 799-2959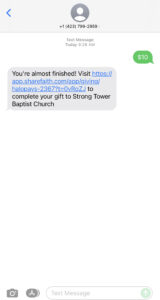 Please create an account and login when giving. Having an account allows us to apply the gift to the correct ministry area.